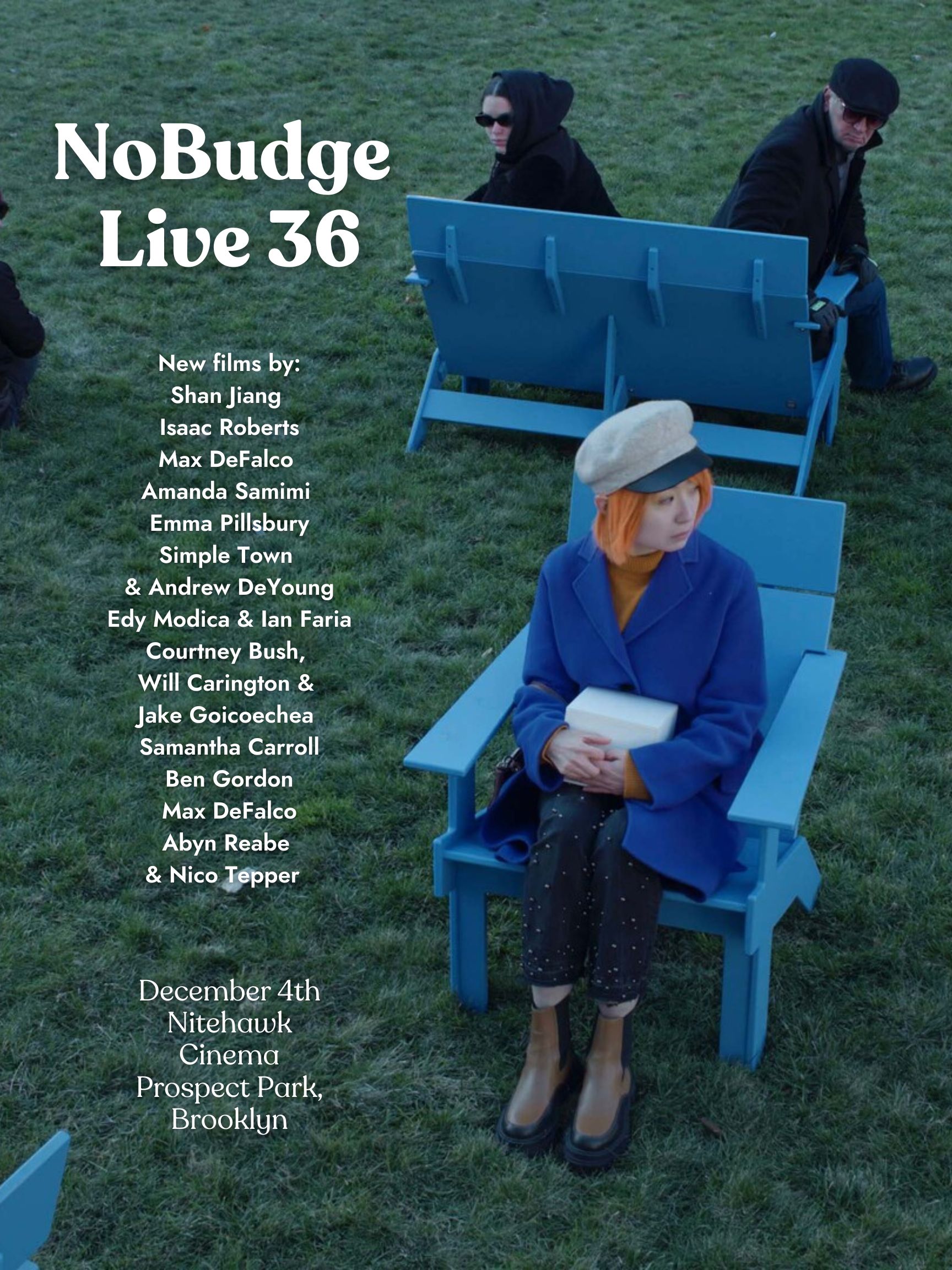 NoBudge Live #36
Midnite weekend screenings happen on Friday & Saturday nights (meaning arrive on Friday and/or Saturday night by 11:45pm for seating, the movie starts after midnite)!
Run Time: 100 min. Format: DCP Release Year: 2023
NoBudge is happy to present a new program of eleven short films from a group of emerging indie filmmakers mostly based in New York. This edition, we're looking at issues of (mis)communication, dynamics of friendships, and uncertainties of youth. Stylistically, it's a mix of the surreal, naturalistic, comically absurd, and melodramatic. Eight of the films are premieres and each director will be in attendance for a post-screening Q&A and Afterparty.
NoBudge is an online platform spotlighting the best in low-budget indie filmmaking. "One of the best places to sample what's happening in low-budget cinema worldwide," says Glenn Kenny of The New York Times. Its mission is to provide a supportive home for emerging indie filmmakers working with limited resources and without major industry connections, and to be a trusted discovery platform.
ApHasiA: Describe the City you Live in
N.Y. Premiere
Director Shan Jiang Present.
An individual of the Chinese diaspora finds herself in a surreal speech therapy session.
(11 min)
Tenderless
N.Y. Premiere
Director Amanda Samimi present.
An awkward New York teenager accompanies her more experienced friend to a boy's home.
(9 min)
I Am Never Having Kids
N.Y. Premiere
Director Emma Pillsbury present.
A woman receives a phone call regarding her fertility results before a night out.
(5 min)
Goblin High
U.S. Premiere
Director Isaac Roberts present.
A slice-of-life fantasy film that follows two teenage goblins navigating the uncertain waters of post-graduation life.
(6 min)
Thrashing
U.S Premiere
Director Abyn Reabe present.
A lonely marijuana farmer begins having strange waking dreams and gaps in his memory.
(7 min)
Stigmata
Brooklyn Premiere
Director Ben Gordon present.
Brad Christian lives a peaceful life operating an aquarium store until he is visited by a deranged fan of his old magic tutorial DVDs.
(7 min)
Rejoice in the Lamb
Directors Courtney Bush, Will Carington, and Jake Goicoechea present.
A late-night conversation with an oracle launches a young Brooklyn woman on a quest to slay a vampire.
(19 min)
AirBnb
Simple Town and Andrew DeYoung present.
Four friends check into a rental home where there is a camera in every room.
(8 min)
Isaac
Brooklyn Premiere
Director Samantha Carroll present.
In an attempt to be liked, Anna invites a stripper to her friend's bachelorette party.
(11 min)
Anything Helps
N.Y. Premiere
Director Max DeFalco present.
An injured, unemployed father fakes having cancer to pay for his broken ceiling.
(8 min)
Waiter Movie: The Short
Directors Edy Modica and Ian Faria present.
Frank is a waiter who lives in his brother's restaurant.
(9 min)
UPCOMING
SPECIAL

SCREENINGS SEE ALL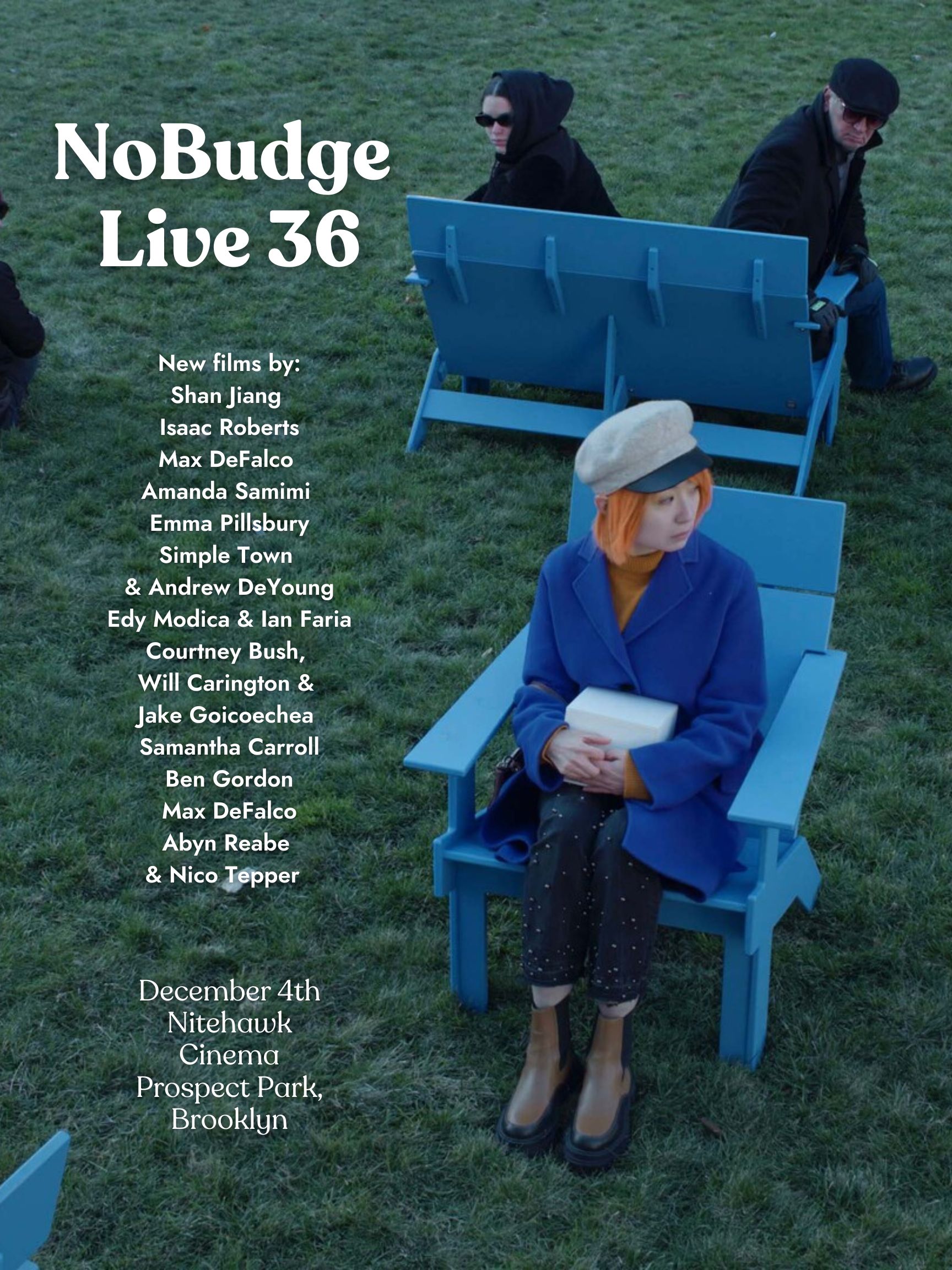 Dec 4
A new program of eleven short films from a group of emerging indie filmmakers mostly based in New York
details