NoBudge Live #35
Midnite weekend screenings happen on Friday & Saturday nights (meaning arrive on Friday and/or Saturday night by 11:45pm for seating, the movie starts after midnite)!
Mon, Sep 25 @ 7:15 pm: Followed by a Q&A with the filmmakers
Run Time: 107 min. Format: DCP Release Year: 2023
NoBudge is happy to present ten new short films from a group of emerging indie filmmakers mostly based in New York. For this program, we focus primarily on young characters in quotidian struggles, or existential ones. They are anxious about how to spend tonight and not so sure about the rest of their lives either. Feeling alienated or overwhelmed, they are worried about money, looking for work or firmly enmeshed in terrible jobs, and bombarded by technology. Some are surreal while others are crushingly realistic. We begin with a double shot of experimental filmmaking before moving on to mostly comedy with a hint of drama, and a drop of animation. As a palate cleanser to the angst of young adulthood, we close the lineup at a seniors-only retreat at a Poconos resort where two 75-year-old friends look for love. Six of the films are NYC premieres and each director will be in attendance for a post-screening Q&A and Afterparty.
NoBudge is an online platform spotlighting the best in low-budget indie filmmaking. "One of the best places to sample what's happening in low-budget cinema worldwide," says Glenn Kenny of The New York Times. Its mission is to provide a supportive home for emerging indie filmmakers working with limited resources and without major industry connections, and to be a trusted discovery platform.
ecologics
New York Premiere
Director Lauren Koo present.
A young narrator fixates on old office buildings and discarded ways of life, experiencing some form of nostalgia for something they never experienced.
(7 min)
This Could be Heaven
New York Premiere
Director Hope Green present.
Exploring a world in which magic is possible in places that were designed to be merely tolerated, a dollar store aisle becomes a chapel, and forgotten places become home.
(11 min)
xX_luv.kitten_Xx
Director Bobby McCoy present.
A struggling Twitch streamer hustles up quick cash and alienates her loved ones, stopping at nothing to get to an influencer meetup at Buffalo Wild Wings.
(14 min)
Up and Coming
Director Taryn Segal present.
An actress is challenged by an eccentric director when rehearsing a gruesome kill scene for his horror movie.
(10 min)
Semen Retention for a Better Tomorrow
Director Alexandra Neuman present.
A feminine being reflects on a dispiriting sexual experience in this claymation musical reckoning with the patriarchy and the climate crisis.
(6 min)
Friyay
New York Premiere
Director Katie Colosimo present.
Ellie doesn't feel like going out even though it's Friday night. A series of insignificant conversations make her question – is she okay?
(15 min)
Sweet Green
New York Premiere
Director Phillip Vernon present.
A couple on the rocks hopes a simple night out at the movies will smooth things over, but things get dicey when they're hungry and running late.
(11 min)
Recovery
New York Premiere
Director Nick Lane present.
When User's world sim is compromised, a customer service AI walks him through a perplexing account recovery process.
(3 min)
Flail
New York Premiere
Director Ben Gauthier present.
An addled farce for the attention economy, the film follows a distracted personal assistant as she frantically prepares for her boss's birthday party.
(13 min)
The Singles Retreat
Director Jo Firestone present.
Two 75-year-old friends attending a seniors-only singles retreat in the Poconos have hopes of meeting some nice gentlemen.
(17 min)
UPCOMING
SPECIAL

SCREENINGS SEE ALL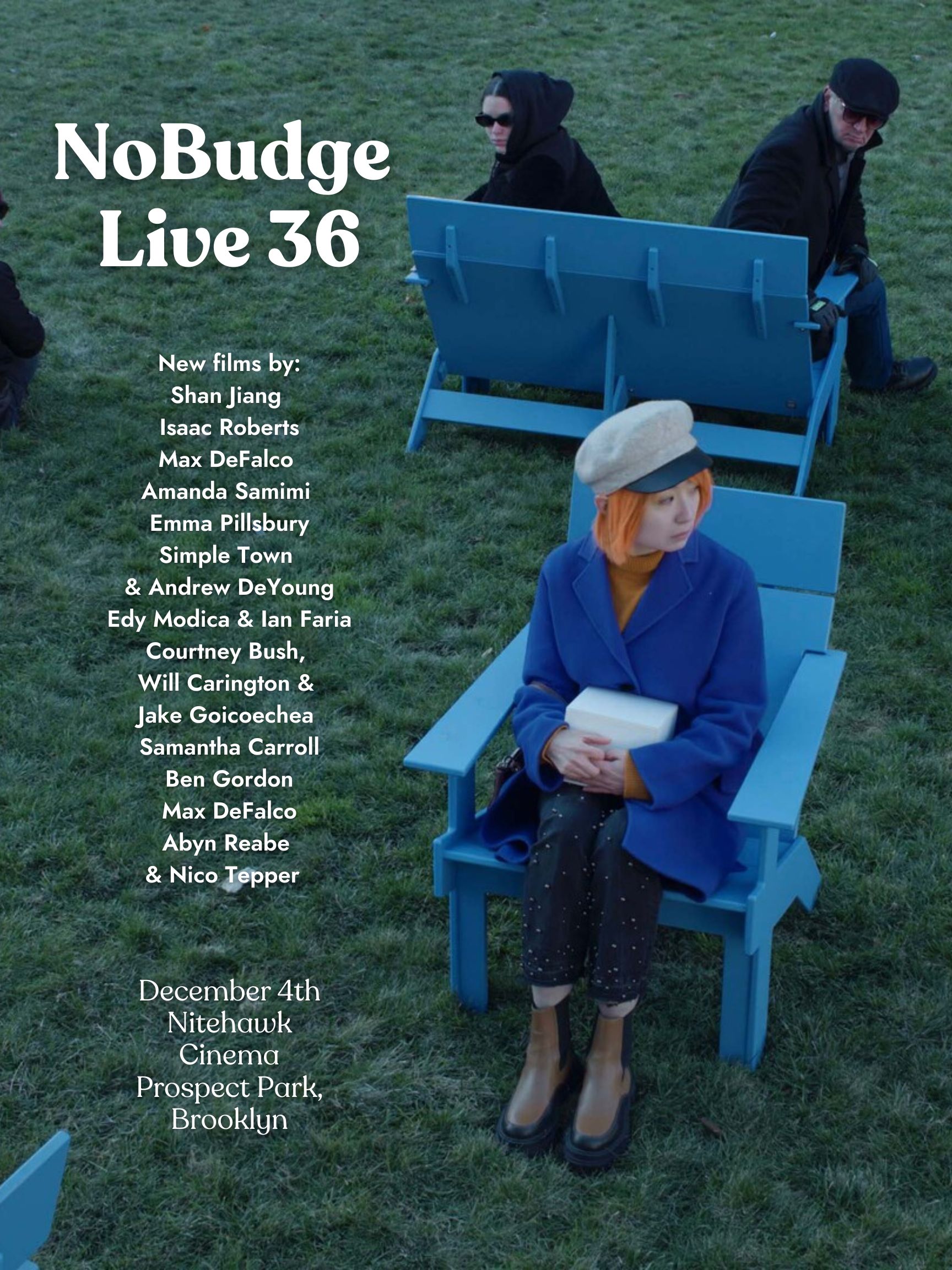 Dec 4
A new program of eleven short films from a group of emerging indie filmmakers mostly based in New York
details